ModSurfer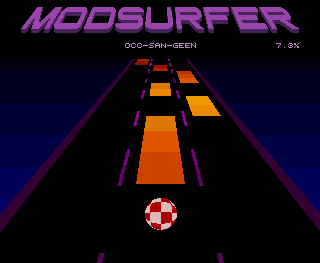 Check out the gameplay video on YouTube.
All PAL Amigas are supported. Larger MODs will need more chip RAM. Hard disk installation is supported. No Amiga? No problem! Also works great in WinUAE and FS-UAE on your platform of choice.
This was my entry into the 2018 English Amiga Board game development competition.
Download: modsurfer.lha (HDD + ADF) (Aminet: modsurfer)
No MODs? I've curated a collection of tracks that play great in ModSurfer. Unpack them to your hard disk or use the ADF floppy images. Track 0 is a warm-up, feel free to skip if you're good! I'm not affiliated with the MOD composers, just a fan.
Download: modsurfer_mods.lha (HDD + ADF) (Aminet: modsurfer_mods)
This game was written in C and assembly and cross-compiled with the amiga-gcc port. It includes the public domain MOD replayer ptplayer. Browse the source code online at GitHub.